Dungarri Nya Nya Ngarri Bi Nya
This was a significant moment for the Townsville community, as we came together for reconciliation through dance, which for us as Aboriginal people is how we continue to teach, practice, and share culture on our Country.

Ashley Saltner Jnr, Wulgurukaba Traditional Owner
Winner of the 2022 Performing Arts Connections Australia Impact Award, for significant achievement in elevating First Nations culture and fostering social cohesion.
Dungarri Nya Nya Ngarri Bi Nya was a groundbreaking celebration of First Nations culture from across the North Queensland region featuring Wulgurukaba Walkabouts, Big Eye Theatre (Mula Jina Warran and Mula Jina Jalbu), Sambo Productions and Komet Torres Strait Islander Arts and Culture, and non-first nations collaborators Dancenorth, as well as 30 young performers from Heatley State School, Townsville Multicultural Support Group and Dancenorth's youth community.
The Wulgurukaba, Bindal, Gugu Badhun and Nywaigi peoples have nurtured a deep and respectful relationship with the land and sea in our region for millennia.
Spanning 2020 and 2021, local First Nations groups - the Wulgurukaba Walkabouts, Big Eye Theatre Dancers (Mula Jina Warran and Mula Jina Jalbu), Komet Torres Strait Islander Dancers, Sambo Productions - came together for the first time in decades to connect, collaborate and co-create a new performance work alongside Dancenorth Australia.
Dungarri Nya Nya Ngarri Bi Nya means 'now we have arrived'.
Against a mosaic of land and water, we gathered under the starry sky to experience a bold and ambitious performance that pushed the boundaries of traditional and contemporary dance and music, featuring five local First Nations groups and the Dancenorth Ensemble.
Award-winning multilingual rapper Baker Boy, from North East Arnhem Land performed live alongside the cast of 70 performers before rounding out the evening with a 50 minute set that had the audience up and dancing – celebrating together.
The project also featured graphic and costume design by Jessica Johnson of Nungala Creative, with additional painting by renowned artist Gail Mabo.
Pre-show entertainment included Blak Art Markets and live music – an array of arts and crafts from local artists, performances from local First Nations musicians Normey J, Urapon and Samuel Savage, and traditional foods prepared by local Elders.
The two-year process of developing the work was the work resulting in a highly visible cross cultural celebration of creativity and collaboration. A grounding from which we can continue to find ways to connect and collaborate ongoing; to breathe life and build community strength in regional North Queensland. The impact of this project is that we now have momentum to move forward together.
Credits
Original Concept Max Lenoy
Concept/ Direction/ Choreography Aunty Rosalind Sailor, William Mabo, Ashley Saltner Jnr, Glenn Thomas, Tibian Wyles, Kyle Page and Amber Haines
Collaborating Groups Big Eye Theatre (Mulu Jina Waran and Mulu Jina Jalbu), Komet Torres Strait Islander Art and Culture, Sambo Productions, Wulgurukaba Walkabouts, Dancenorth Ensemble.
Additional Music Composition Cameron Deyell
Featured Artist Baker Boy
Lighting Design Verity Hampson
Dancenorth Costume Design Nungala Creative
Scenic Artist Gail Mabo
Pre-show Entertainment Normey Jay, Urapun
Featuring Blak Arts and Cultural Markets
Acknowledgements
Dungarri Nya Nya Ngarri Bi Nya was commissioned by the North Australian Festival of Arts.
This project was made possible by Restart Investment to Sustain and Expand (RISE) Fund – an Australian Government Initiative, and received financial assistance from the Queensland Government through Arts Queensland's Backing Indigenous Arts program.
Dancenorth Australia is assisted by both the Australian Government through Creative Australia, its principal arts investment and advisory body, and the Queensland Government through Arts Queensland. Dancenorth Australia is supported by Townsville City Council through their Strategic Partnerships Program.
Performance History
North Australian Festival of Arts
Townsville / Gurambilbarra
2021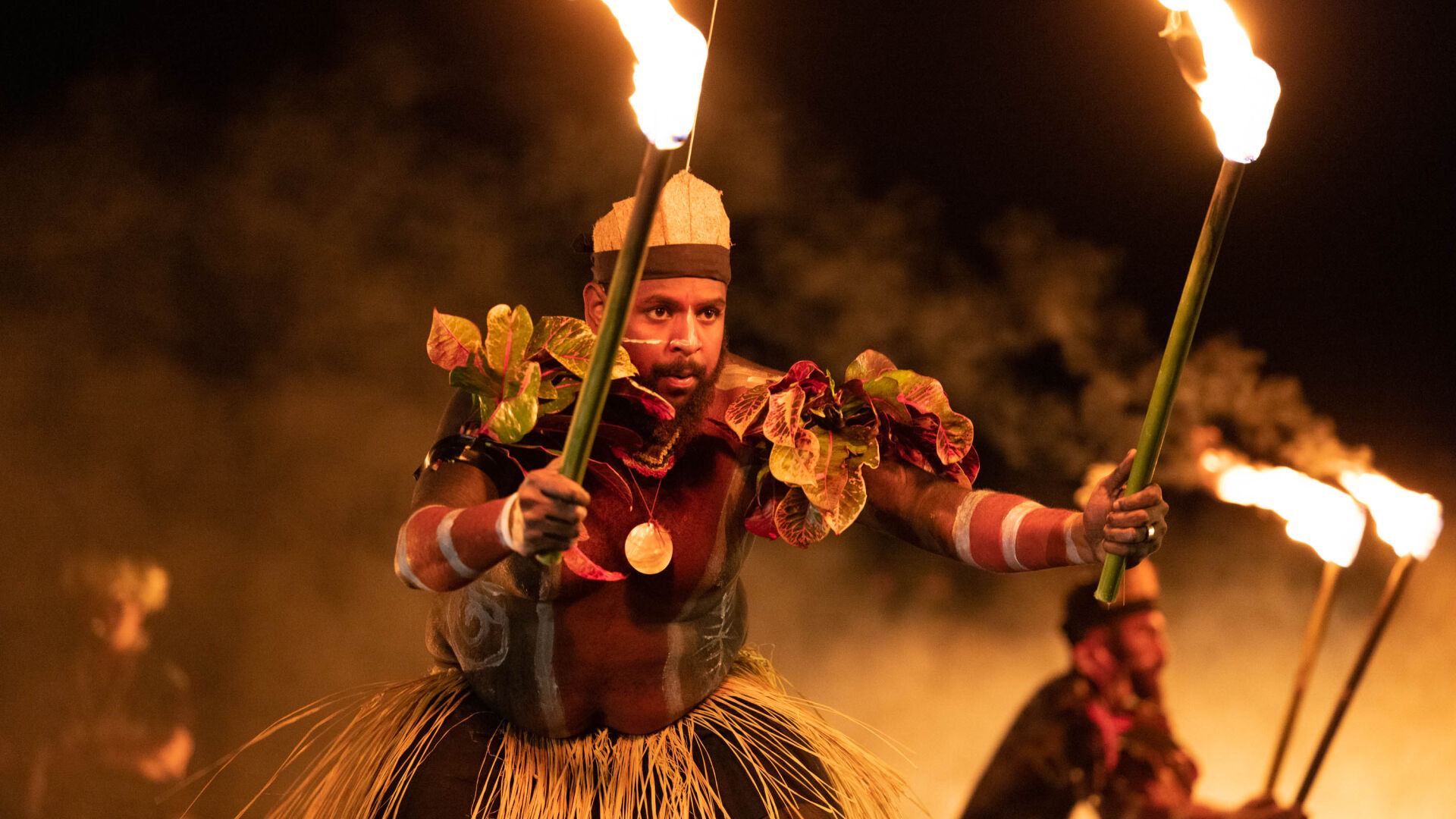 Our fight is to build local, national, and international connections and resilience through dance for all to thrive.